$18.00
NZD
Category: Classics
The Sheep-pig is one of Dick King-Smith's most famous tales. It shot to further fame when the film adaptation, Babe, was released in 1995. 'Why can't I learn to be a Sheep-Pig?' When Babe, the little orphaned piglet, is won at a fair by Farmer Hogget, he is adopted by Fly, the kind-hearted sheep-dog. Ba be is determined to learn everything he can from Fly. He knows he can't be a sheep-dog. But maybe, just maybe, he might be a sheep-pig. 'An unexpectedly thrilling, funny charmer of a book' - Guardian 'Dick King-Smith is a huge favourite with children' - Observer ***Winner of the Guardian Fiction Award*** ...Show more
$30.00
NZD
Category: Hardback Picture Books
Get lost in this magical world full of beasts -- both familiar and fantastical -- with your children while reading and re-reading Jabberwocky year after year. 'Twas brillig, and the slithy toves did gyre and gimble in the wabe; All mimsy were the borogoves, and the mom raths outgrabe. Lewis Carroll's mo st iconic seemingly nonsensical poem is brought to life like never before with award-winning illustrator Charles Santore's stunning renditions of a brave warrior who is on a mission to slay the dastardly Jabberwock. Get lost in this magical world full of beasts (both familiar and fantastical) with your children while reading and re-reading Jabberwocky year after year. ...Show more
$22.00
NZD
Category: Classics | Reading Level: Children's - Grade 4-6, Age 9-11
Harriet M. Welsch is a spy. She never goes anywhere without her notebook. She scribbles her brutally honest observations in preparation for her glittering career as a writer. Then one day Harriet's friends find the notebook, and her life is never the same again.
$17.00
NZD
Category: Classics
Nobody loves Mary - the heroine of the famous story of Francis Burnett "The Secret Garden". However, she does not burn with love for others, and moreover - she can not stand the whole world. And then her parents are passing away prematurely. There is an impression that nothing good can happen to her in this life. But there is a miracle: the fate itself extends the heroine of the book to the saving hand and leads to the path leading to the beautiful Secret Garden... ...Show more
$26.00
NZD
Category: Classics
Mum said war was a punishment form God for people's sins, so he'd better watch out. She didn't tell him what to watch out for, though. When the Second World War breaks outs, young Willie Beech is evacuated to the countryside. A sad, deprived child, he slowly begins to flourish under the care of kind old Tom Oakley. But then his cruel mother summons him back to war-torn London . . . Will he ever see Mister Tom again? WINNER OF THE GUARDIAN CHILDRENS FICTION AWARD Goodnight Mister Tom 'Everyone's idea of a smash-hit first novel- full-blown characters to love and hate, moments of grief and joy, and a marvellous story that know just how to grab the emotions.' Guardian ...Show more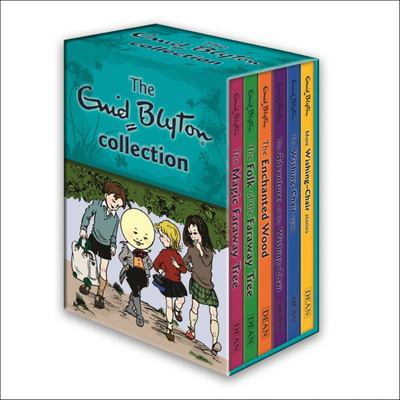 $50.00
NZD
Category: Classics
Includes stories such as The Magic Faraway Tree, The Folk of the Faraway Tree and The Enchanted Wood accompanied by The Adventures of the Wishing-Chair, The Wishing-Chair Again and More Wishing-Chair Stories.
$18.00
NZD
Category: Classics | Series: The Magic Faraway Tree
The first magical story in the Faraway Tree series by one of the world's most popular children's authors, Enid Blyton. Joe, Beth and Frannie find the Enchanted Wood on the doorstep of their new home, and when they discover the Faraway Tree they fall into all sorts of adventures! Join them and their frie nds Moonface, Saucepan Man and Silky the fairy as they discover which new land is at the top of the Faraway Tree. Will it be the Land of Spells, the Land of Treats, or the Land of Do-As-You-Please? Discover the magic! First published in 1939, this edition contains the original text. Inside illustrations are by Jan McCafferty, and the cover by Mark Beech (2014). ...Show more
$17.00
NZD
Category: Classics | Series: Out of the Hitler Time
This semi-autobiographical and unforgettable story, of a Jewish family fleeing from Germany before the start of the Second World War, now reissued with its original cover illustration in this very special edition. Michael Morpurgo called When Hitler Stole Pink Rabbit: "The most life-enhancing book you c ould ever wish to read." This internationally acclaimed story of one Jewish family's flight from Hitler's Germany has become a much-loved classic, and has been in print since its debut 45 years ago. Suppose your country began to change. Suppose that without your noticing, it became dangerous for some people to live in Germany any longer. Suppose you found, to your complete surprise, that your own father was one of those people. That is what happened to Anna in 1933. She was nine years old when it began, too busy to take much notice of political posters, but out of them glared the face of Adolf Hitler, the man who would soon change the whole of Europe - starting with her own small life. One day, Anna's father was missing. Then she herself and her brother Max were being rushed by their mother, in alarming secrecy, away from everything they knew - home and schoolmates and well-loved toys - right out of Germany... ...Show more
$20.00
NZD
Category: Classics
David escapes from the concentration camp where he has spent his entire life and flees across Europe. He is utterly alone. Who can he trust? What will await him? All the while, how can he be sure they won't catch up with him?This is the remarkable story of David's introduction to the world: sea, mountai ns, flowers, the colours of Italy, the taste of fruit, people laughing and smiling. David learns that his polite mannter, his haunted eyes, and thin features are strange to other people. He must learn to fend for himself in this strange new world.An incredible story of self-discovery and survival against all odds for fans of The Boy in the Striped Pyjamas and The Book Thief. ...Show more
$18.00
NZD
Category: Classics
Pauline, Petrova and Posy Fossil are sisters - with a difference. All three were adopted as babies by Great Uncle Matthew, an eccentric and rich explorer who then disappeared, leaving them in the care of his niece Sylvia. The girls grow up in comfort until their money begins to run out and nobody can fi nd Great Uncle Matthew. Things look bleak until they hit on an inspired idea: Pauline, Petrova and Posy will take to the stage. But it's not long before the Fossils learn that being a star isn't as easy as they first thought... ...Show more
$20.00
NZD
Category: Classics | Series: Letter for the King
A young messenger. A secret mission. A kingdom in peril. It is the dead of night. Sixteen-year-old Tiuri must spend hours locked in a chapel in silent contemplation if he is to be knighted the next day. But, as he waits by the light of a flickering candle, he hears a knock at the door and a voice desper ately asking for help. A secret letter must be delivered to King Unauwen across the GreatMountains - a letter upon which the fate of the entire kingdom depends. Tiuri has a vital role to play, one that might cost him his knighthood. Tiuri's journey will take him through dark, menacing forests, across treacherous rivers, to sinister castles and strange cities. He will encounter evil enemies who would kill to get the letter, but also the best of friends in the most unexpected places. He must trust no one.He must keep his true identity secret.Above all, he must never reveal what is in the letter... The Letter for the King is the thrilling story of one boy's battle against evil, set in an enchanted world of chivalry, courage and true friendship. ...Show more