$18.00
NZD
Category: Junior Fiction | Series: Nerd Herd
Barny the Lamb and his friends are sick of being picked on. So they decide to form a gang to show everyone that they are not as soft as they look. But how do three fluffy friends stand up to a cunning fox, a gigantic cat, and a bull with behavioural issues?
$19.00
NZD
Category: General Graphic Books | Series: Dog Man
Dog Man and Petey face their biggest challenges yet in the tenth Dog Man book from worldwide bestselling author and illustrator Dav Pilkey.Dog Man is down on his luck, Petey confronts his not so purr-fect past, and Grampa is up to no good. The world is spinning out of control as new villains spill into town. Everything seems dark and full of despair. But hope is not lost. Can the incredible power of love save the day? Dav Pilkey's wildly popular Dog Man series appeals to readers of all ages and explores universally positive themes, including empathy, kindness, persistence, and the importance of doing good. ...Show more
$20.00
NZD
Category: Junior Fiction | Series: Jack Heath Comedies Ser.
Levi is pretty sick of starring in Dad's stupid TV show, Kid Kablam. Because Levi is the kid who gets KABLAMMED! So far he's been knocked down, blown up, and attacked by wild animals. And Dad has one more scene planned-the most dangerous stunt so far. Can Levi survive this final stunt without seriously stacking it?   ...Show more
$18.00
NZD
Category: Junior Fiction | Series: Pizazz
Pizazz is just like every other nine-and-a-half year old. Except for one thing. She's a superhero! The second in the hilarious, highly illustrated series for 7 - 10 year olds from Sophy Henn, featuring a new must-get-to-know girl character - reluctant superhero, Pizazz! And if there's one thing Pizazz k nows, it's that it's not easy being super.... ...Show more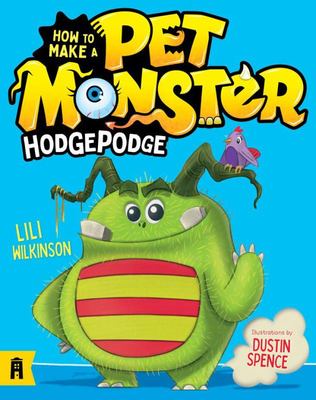 $17.00
NZD
Category: Junior Fiction | Series: Pet Monster
A fantastically readable, gloriously funny and highly collectable new junior fiction series. I'm Artie. I'm eleven years old. I do not believe in ghosts, or monsters. I do believe in science. I also believe that my step-sister Willow is kinda terrifying. Willow and I found a weird old book in the attic of our new house. It's called the Big Boke of Fetching Monsters. And it tells you how to make your own monster. But that's impossible. You DEFINITELY can't make a monster, because MONSTERS DO NOT EXIST. ...Show more
$18.00
NZD
Category: Junior Fiction | Series: Naughty Dragons
In the Laidley Hundreds, dangerous wild dragons roam the Highlands. But dragons aren't born bad - just naughty!   Graun and Fafnine have settled in perfectly with Ava and Jack's family, but now it's time for a whole new challenge - school! Jack and Ava are thrilled to be able to start flying to class, a nd Graun and Fafnine are excited to start dragon lessons. But they soon discover that school isn't all fun and games - there are new rules to learn, and not all of the dragons in their class are nice. Will Graun and Fafnine be able to stay out of mischief, or will these two naughty dragons cause trouble again?    Perfect for fans of How to Train Your Dragon and Enid Blyton's classic adventures, Naughty Dragons is a highly visual series for readers 6+, packed with rollicking adventure, riotous laughs and oodles of mischief.   ...Show more
$15.00
NZD
Category: Junior Fiction
Two intrepid girls go from ladies-in-waiting to knights-in-action when they rip up the rule book and go searching for adventure! Wondermere is the luckiest kingdom in the land, all thanks to the dragons that nest on top of the castle. Nobody wants them to fly away, so everyone has to FOLLOW THE RULES a nd make sure everything STAYS THE SAME to keep the dragons HAPPY. P rincess Grace HATES the rules. They stop her doing everything she loves, like PLAYING TROLL-O and WEARING TROUSERS and training to be a BRAVE KNIGHT. Why do boys get all the FUN! Determined to prove that the rules are a LOAD OF OLD SWAMP ROT, Grace and her sister Princess Portia secretly enter the year's BIGGEST TROLL-O TOURNAMENT. A couple of rule-breakers couldn't possibly disturb the dragons could they? Cheeky, charming and laugh-out-loud funny, the debut young fiction series from bestselling picture book author Michelle Robinson is chock-full of chuckles (and grumpy unicorns). Perfect for fans of Cressida Cowell, Pamela Butchart and Emer Stamp. ...Show more
$15.00
NZD
Category: Junior Fiction | Series: The Naughtiest Unicorn
A brand new book in the bestselling NAUGHTIEST UNICORN series - the funniest unicorn books EVER! The perfect gift for Halloween - and for readers of 7+ and fans of The Worst Witch and Pamela Butchart.   It's the SPOOKIEST time of the year at Unicorn School! Mira and Dave the naughtiest unicorn are loo king forward to dressing up for trick-or-treating, pumpkin carving and apple bobbing (well, doughnut bobbing for Dave). But when a strange new teacher arrives at school and the other teachers start to DISAPPEAR, Mira and her friends suspect that something SPOOKY is going on. Can they get to the bottom of what's going on, or are they in for a SERIOUSLY SPOOKY SURPRISE?   Pip Bird is a children's author living in London. When she's not writing magical stories, she dreams of going to Unicorn School and having her own Unicorn Best Friend Forever. The Naughtiest Unicorn series: The Naughtiest Unicorn The Naughtiest Unicorn at Sports Day The Naughtiest Unicorn and the School Disco The Naughtiest Unicorn at Christmas The Naughtiest Unicorn on a School Trip The Naughtiest Unicorn on the Beach The Naughtiest Unicorn and the Spooky Surprise ...Show more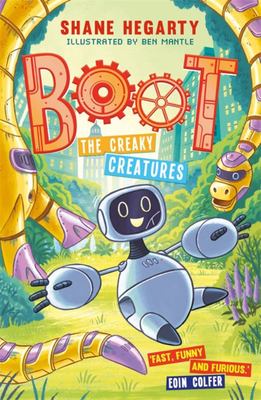 $19.00
NZD
Category: Junior Fiction | Series: Boot
For fans of Toy Story and Charlie Changes into a Chicken, this is the third hilarious, warm-hearted story about a small robot on a big adventure. With illustrations by Ben Mantle bringing Boot's world to life, this is a thrill-ride of an adventure story, stuffed with fun, friendship, and a large number of malfunctioning robot pets. 'Fast, funny and furious. These are definitely my favourite robots.' Eoin Colfer Boot was once a toy robot, but it has come a long way since it was scrapped and woke back up with only two-and-a-half glitchy memories. When Boot catches sight of a robot pet it used to know - Mr Piggles - our hero and pals follow it to a beautiful green square in the city of skyscrapers. Here they find not just real nature, but also a haven for broken and rejected pets. They also meet the children who look after the pets, and for whom this green space is a sanctuary too. But Boot is distracted by its emotions, swinging from happy to sad ... maybe Boot is broken? Can it work out what is wrong, with the help of its friends? Illustrated throughout in glorious black and white by the award-winning Ben Mantle, this is an unforgettable tale of resilience and hope. Have you read the first BOOT story, shortlisted for the Sainsbury's Book Award? ...Show more
$17.00
NZD
Category: Junior Fiction | Series: Monty's Island
Monty lives on a perfect island in the middle of a magical sea. Sometimes the sea throws up something interesting ... and Monty goes on an amazing adventure!On a tiny island far away, in a sea that ripples with magic, Monty never knows what he might find…   The most unexpected things wash up on Monty' s Island. And a golden egg might be his most amazing find yet! But when a pair of flying monsters and a mysterious explorer arrive, it seems the egg is about to hatch into a very big problem. Can Monty find a way to solve it? Surely he can! All he needs is a little help from his friends. And the Hairy Horrible. An adventurous and entertaining new series from beloved author Emily Rodda. ...Show more
$17.00
NZD
Category: Junior Fiction | Series: Captain Underpants
New York Times bestselling author Dav Pilkey's Captain Underpants soars to greater heights with the breakthrough fourth book-now in full color! George and Harold are fourth-grade buddies with a penchant for practical jokes. When the boys' latest prank drives their science teacher over the edge, their c lueless principal, Mr. Krupp, quickly hires a replacement: Professor Pippy P. Poopypants. Of course, George and Harold can't resist making fun of the Professor's silly name. But then the Professor retaliates by forcing everyone in town to change their own names to be equally silly, with colossal consequences! ...Show more