$19.00
NZD
Category: General Graphic Books
Meet our superheroes: - Binky, aka The Monotreme! - Worried Norman, once bitten by a radioactive croissant and now Pastry Person! - Letitia, an occasionally bossy science-wombat and genius inventor!   Together, they are the EnviroTeens and they are about to get very, very angry. Singleuse Plastic Brend an may have an evil plan to destroy all the world's turtles with his dastardly tur-tele-pooter but, believe it or not, there is something even more sinister than an angry plastic bag on a garbage island in the middle of the ocean ... Climate change! Oh no! The EnviroTeens will do anything to stop this impending disaster: scale slippery volcanoes, scurry through forests full of poisonous armpit monsters, even meet Senator Ian, the Climate Denialist Potato. But can three teenagers and a chicken save the whole world? Why not, nobody else is! Maybe they are in with a chance? I can't look, it's too exciting! A hilarious graphic novel about a group of teens who are determined to clean the planet and clear the air. A proportion of the publisher's profits will be donated to School Strike 4 Climate Australia. ...Show more
$23.00
NZD
Category: Environmental Issues
The main concern of young people is climate change and how to combat it. This is the only official handbook from Extinction Rebellion Youth and will help you to change your life and change the world for the better. Written by the coordinator of Extinction Rebellion Youth London, this is no greenwashing book - it's an important call to action. A manifesto for how young people can help to save the planet by questioning everything about modern life and acting upon their conclusions. This book will ask you to challenge everything - challenge government (protest and take peaceful action where necessary), challenge business (decide who you want to support, decide who you want to boycott), and above all to challenge yourself - how can you change your life to make a difference. Filled with stories, essays, slogans and inspiring illustrations, this book will cover consuming, actioning, boycotting, campaigning, striking, questioning, rewilding and reconnecting with our planet. ...Show more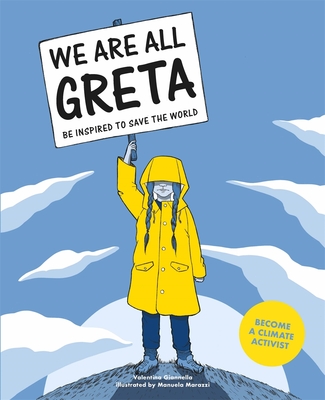 $22.00
NZD
Category: Biography & Autobiography
Follow in Greta Thunberg's footsteps and join the global mission to save our planet from climate change. With in-depth text and data, this necessary and timely book will answer readers' questions on what climate change means, what its consequences will be, and what must be done to protect our world.
Fish
by Brendan Kearney
$24.00
NZD
Category: General Picture Books
Meet Finn the fisherman and his dog, Skip, in this illustrated story book for young children that teaches them about plastic pollution and recycling. All Finn wants is to catch a nice, tasty fish for his dinner, but no matter how hard he tries all he seems to catch at the end of his fishing line is the rubbish that is polluting the sea . At the end of the day, Finn and his dog Skip go home with a boat full of rubbish, but their tummies are empty tummies. However, they soon find a way to put the rubbish they have found to good use... This book is the ideal introduction for children to the environmental concerns facing our oceans, featuring colourful illustrations and an engaging, light-hearted storyline, drawn and written by Brendan Kearney. Grown-ups and children will enjoy reading together and following the story of Finn and Skip with its ups and downs, and pointing out all the different pieces of rubbish that Finn catches in the ocean in the detailed illustrations. Young readers will love this picture book with a timely and ultimately uplifting message about protecting the world around us. ...Show more
$23.00
NZD
Category: Lift-the-Flaps | Series: See Inside | Reading Level: Children's - Grade 1-2, Age 6-7
This is a lift-the-flap book that introduces readers to the science of weather. The work is filled with facts from how hurricanes and floods happen to how global warming is affecting the Earth's climates.
$16.00
NZD
Category: Environmental Issues
Learn about the dangers of single-use plastics and pick up tips on what you can do to help through teenage activists Amy and Ella. This environmental book will teach young activists about the dangers of plastic pollution and climate change, but also to help them find their voice. Amy and Ella want thei r book to help young readers shout about the issues they are passionate about and inspire them to become young activists in their own right. Filled with facts about the dangers of plastics, as well as tips on what you can do to help, it's the ultimate practical guide to ridding the world of single-use plastics from two young activists. ...Show more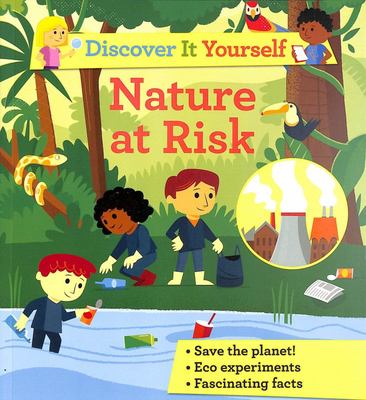 $15.00
NZD
Category: Environmental Issues | Series: Discover It Yourself
Examining the world's different habitats, how plants and animals adapt to their environments, and how these ecosystems remain in balance, this activity-based book looks at how pollution, farming, and deforestation can cause damage. 'How Can I Help' boxes give plenty of practical, fun suggestions for im proving our environment. The Discover It Yourself series lets children explore STEM topics in a practical and fun way, using things in their immediate environment to create awesome experiments. ...Show more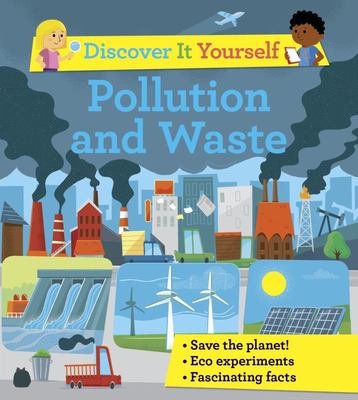 $15.00
NZD
Category: Environmental Issues | Series: Discover It Yourself
This book is packed with scientific facts, experiments, and activities linked to pollution, waste and all things environmental. It brings a lively, hands-on approach to practical science experiments. Children can find almost everything they need for the experiments around the home. The materials and in structions are simply, safely, and clearly presented. This STEM-focused book will show readers how to test for air pollution, watch global warming at work, clean up an oil spill, and much more. ...Show more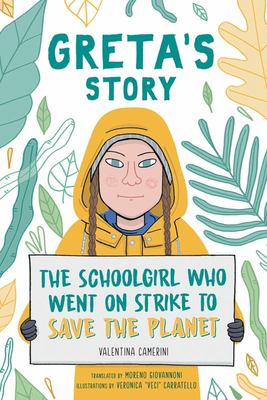 $24.00
NZD
Category: Biography & Autobiography | Reading Level: 8.5 Kids Non Fiction
The story of Greta Thunberg, the schoolgirl who inspired a worldwide climate change movement. It's 20 August 2018, late summer in Stockholm, and it feels incredibly hot in the city. The TV news reports rising temperatures, and there have been numerous fires throughout Sweden. Fifteen-year-old Greta Thu nberg decides she can't wait any longer: politicians have to do something to save the environment. Instead of returning to school, Greta takes a placard and goes on strike in front of Sweden's parliament building. Greta's protest began the Fridays for Future - or School Strike 4 Climate - movement, which millions have now joined around the world. Greta has spoken at COP24, the UN summit on climate change, and has been nominated for the Nobel Peace Prize. This is her story, but also that of many other girls and boys around the world willing to fight against the indifference of the powerful for a better future. ...Show more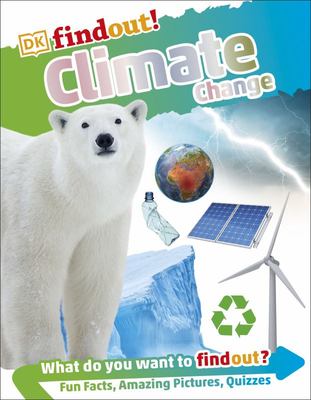 $16.00
NZD
Category: Earth Science | Series: DKfindout!
Understand the facts about climate change and discover what we can do to improve the human impact on our environment. In 2019, kids around the world are going on strike for the future of the planet, and for their own futures. The British and Irish governments have become the first in the world to declar e a climate emergency. Climate change is now one of the biggest issues we face as a society. This book lays out the science behind a natural process that has been massively sped up by humans. It explains the different ways in which we have caused the climate to heat up, from traffic pollution to animal farming, and the widespread effects of this change. The book covers what we can do to help prevent further, damaging changes to the climate, both in our everyday lives and as potential activists. This timely entry into the award-winning DKfindout! series explores the past, present, and future of our climate. It covers key developments such as the industrial revolution, the advent of plane travel, and climate activism, from the People's Climate March to Greta Thunberg and Extinction Rebellion. ...Show more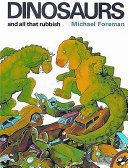 $18.00
NZD
Category: Nostalgic Picture Books | Reading Level: 2-12
One day, when man had set out for a distant star, the dinosaurs came back to life and tidied up the barren wastes he had left behind him. Man was only allowed back when he agreed that the earth should be shared and enjoyed by everyone.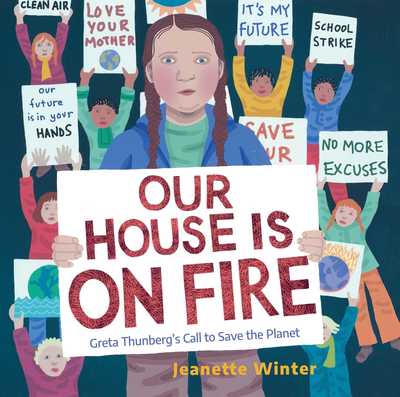 $35.00
NZD
Category: Hardback Picture Books
From acclaimed picture book creator Jeanette Winter comes the urgent and powerful story of Greta Thunberg, the sixteen-year-old climate activist who has sparked a worldwide student movement and is demanding action from world leaders who refuse to address climate change. I don't want you to be hopeful. I want you to panic...I want you to act as if our house is on fire. Because it is. When she was fifteen years old, Greta Thunberg's teacher explained to her class that our climate is changing--the earth is getting warmer, the polar ice caps are melting, and life on earth is threatened. Greta was devastated. What could she do? If the grown-ups weren't doing enough to save the planet, Greta would have to demand change herself. So she went on strike, skipping school every Friday to sit outside of the Swedish Parliament building with a sign that read "School Strike for Climate." At first, Greta was the only one. But gradually, more and more students joined her, until her lone protest had sparked a worldwide student movement for action on climate change. Now, a year later, Greta is speaking to audiences of world leaders at important meetings like the United Nations Climate Conference and the World Economic Forum. She is leading the conversation on climate change and sparking worldwide conversation on how to save our planet. Greta is showing everyone that even the smallest person can make a big difference, and this picture book informs and inspires young readers who are beginning to learn about the world around them. ...Show more