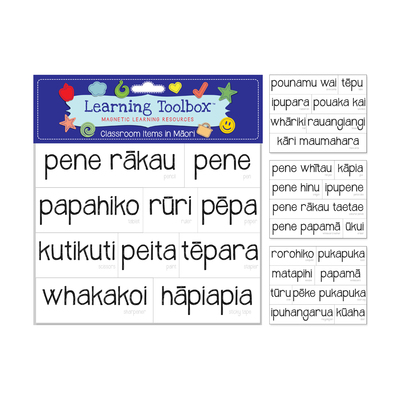 $12.00
NZD
Category: Te Reo Maori Language
Discover the words for common classroom items in Te Reo Maori. Students will learn the words for things they use everyday including stationery, furniture and lunchbox! Learning Maori is fun and easy with these magnetic resources. An essential in classrooms across New Zealand, these magnets are easy to read and stick to metal surfaces or whiteboards. These Maori language magnets work alongside the other magnet packs in the range to create a comprehensive te reo Maori learning program. The Maori words are large and designed to be read from a distance while there is a more discrete English translation below to help with memory recall. This means that teachers do not need to be fluent to be able to help their students learn. Designed with Maori language teachers these magnets feature the most commonly used form of the word appropriate for learning Maori in any region of New Zealand. A great bi cultural resource for both children and adult students of the Maori language, these can easily used on the fridge in a home learning setting as well. T This pack contains 32 magnets. Each magnet is 5cm and of various lengths. ...Show more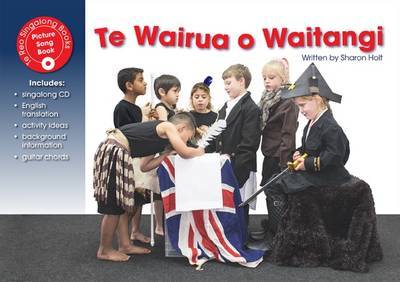 $26.00
NZD
Category: Te Reo Maori Language | Series: Te Reo Singalong | Reading Level: very good
Te Wairua o Waitangi is a full colour picture book with a singalong CD. It is part of the multi-award winning Te Reo Singalong series that makes it easy and fun for teachers, parents and children to use more te reo Maori. No prior knowledge of te reo is needed.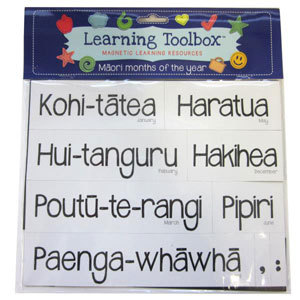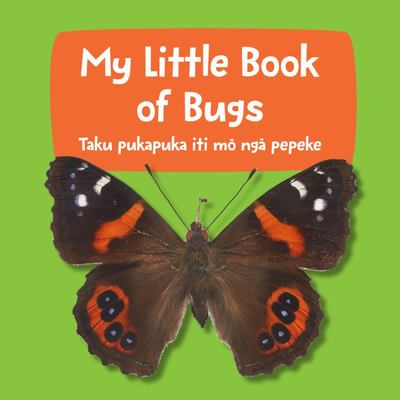 $20.00
NZD
Category: NZ Board & Cloth Books
A beautiful board book for New Zealand babies and their Whanau, featuring amazing photos of bugs in the Te Papa collection. In both English and te reo Maori, it is a perfect gift for any baby and will be well treasured.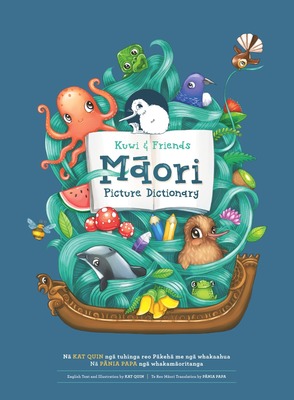 $35.00
NZD
Category: Te Reo Maori Language
Beginners Māori Language Picture Dictionary, for the Whole Family. From the #1 bestselling and award-winning author and illustrator of the Kuwi the Kiwi series, Kat Quin, comes a large scale, stunningly illustrated visual dictionary. Full of over 1000 basic words in te reo Māori and English, perfect fo r every New Zealander.  A fun, easy-to-use resource for those wanting to discover, learn and use everyday words in te reo Maori. The illustrations are designed to help with comprehension, particularly for younger learners. Visual cues can assist with retention of language, to recall spoken and written words.  68 fully illustrated pages, in a large format (265 x 366mm), in vibrant full colour, with over 1000 te reo Maori words, translated into English. Embedded with gorgeous Kuwi the kiwi (and friends) illustrations.  Designed for everyday use, in the whanau (family), kura (school) and for all New Zealanders. Ages 0-100+. A portion of each sale goes to charity Kiwis for Kiwi. ...Show more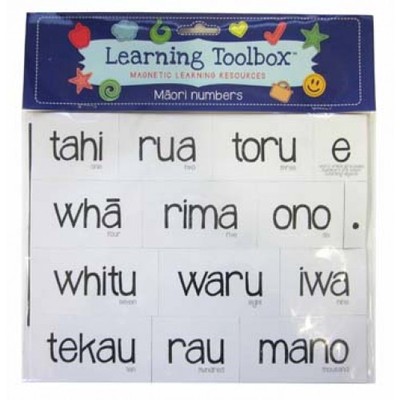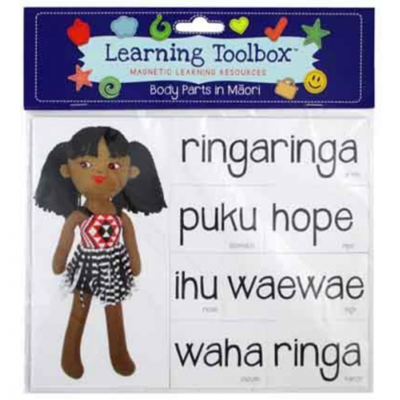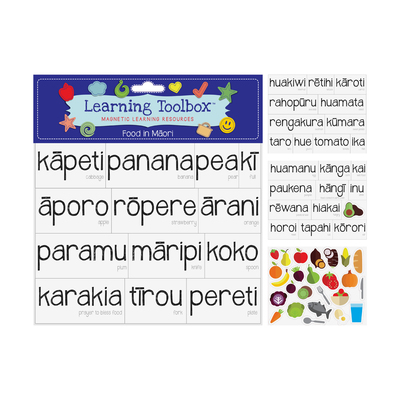 $12.00
NZD
Category: Te Reo Maori Language
Discover the words for common food items in Te Reo Maori. Students will learn the words for everyday foods they eat. There has been a focus on words for healthy foods. Learning Maori is fun and easy with these magnetic resources. A essential in classrooms across New Zealand, these magnets are easy to read and stick to metal surfaces or whiteboards. These Maori language magnets work alongside the other magnet packs in the range to create a comprehensive Te Reo Maori learning program. The Maori words are large and designed to be read from a distance while there is a more discrete English translation below to help with memory recall. This means that teachers do not need to be fluent to be able to help their students learn. Designed with Maori language teachers these magnets feature the most commonly used form of the word appropriate for learning Maori in any region of New Zealand. A great bi-cultural resource for both children and adult students of the Maori language, these can easily used on the fridge in a home learning setting as well. This pack contains 61 magnets. Each magnet is 5cm and of various lengths. ...Show more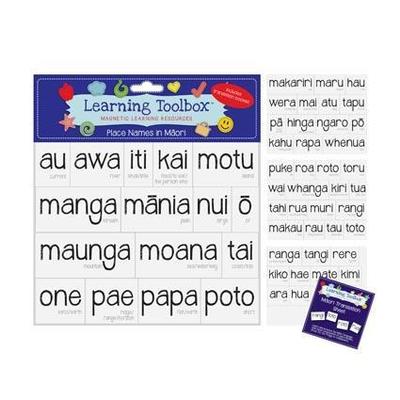 $12.00
NZD
Category: Te Reo Maori Language
Learn Te Reo Maori today, these easy to use magnetic word tiles will stick to any fridge or whiteboard. The English equivalent is shown underneath to enforce the meaning of each word. A great way to get kids learning interacting! The list of place names are geographic labels and included hills, mountai ns, rivers etc. A wonderful learning tool for any classroom. ...Show more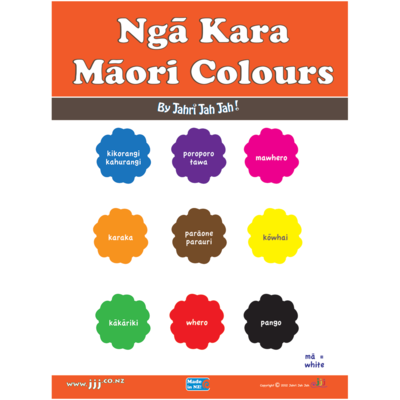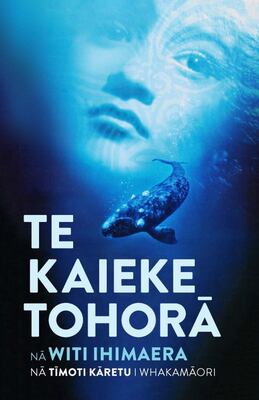 $26.00
NZD
Category: Te Reo Maori Language
Whakamiharo ana tera te tirohanga atu ki a ia, ki te kaieke tohora. I rere atu te wai i a ia, ka hamama tona waha kia taea ai te hau makariri te kupa iho. Ko ana karu e kohara ana i te ahurei. Korekoreko katoa ana te tinana i te rehu taimana. I runga i taua taniwha ano nei he tekoteko paku kua whakairot ia, e tino haura ana, e koratarata ana, e tu torotika ana. Ano nei na tona tino kaha, e to ake ana ia i te tohora ki te rangi . . . Ko Kahutia-te-rangi te kaieke tohora, te tipuna o nga iwi o Te Tai Rawhiti. I haere mai ia i Hawaiki, te kainga o nga Tawhito, ki te tai rawhiti o Aotearoa. No muri mai ko Kahu, te matamua o nga mokopuna tuarua a te whanau. I arohaina ia e ona whanaunga katoa engari ko tera i tino pirangi ia kia aroha atu, kaore i aroha atu - ara, ko tona tipuna tane tuarua.Kua rongo au i a Kui Putiputi e tiwe ana i te hau, 'E Kahu!'I te toia iho au e oku putu. Me tu rawa au ka wetewete. I moumou noa iho te wa ki tenei mahi engari he pai ake tera i te toromi. Riro atu ana nga putu i nga au pioi.Ka titiro ake au. I te kimi au i hea ke ra a Kahu. I hikitia ake au e nga ngaru ka tuku iho ano.Ka tiwaha atu au, 'E Kahu, kaua.'Kua tae ke atu ia ki te tohora, a, e pupuri ana i te kauwae.Mama noa iho te huri mai i te ao purakau ki te ao tuturu, mai i te whakatangi ki te whakakata. Ko tenei pukapuka ko Te Kaieke Tohora ka whakamanaru i te kaipanui ahakoa pehea te pakeke. ...Show more
$20.00
NZD
Category: Te Reo Maori Language
Nau mai, hoake tatou ko Aroha, i a ia e kaupare ana i te taiatea, i te mataku, i te maharahara, me te anipa, ki ana tukanga mama ka taea e te katoa. Na te ringatuhi rongonui no Aotearoa, na Craig Phillips, nana nga pukapuka o The Adventures of Jack Scratch me Giants, Trolls, Witches, Beasts (te toa i te Tohu Whakaahua o Russell Clark ki te New Zealand Book Awards 2018). "He huia kaimanawa tenei pukapuka, he tino rauemi hoki, hei awhina i nga tamariki, me nga whanau katoa. Ka titia enei korero ki te ngakau'. - Stacey Morrison Bestselling Aroha's Way has been translated into Te Reo Māori by the amazingly talented Dr Karena Kelly.  It isn't a straight translation but is in keeping with the deeper meaning of the book and using the stunning depth of the Māori language.  This is for reo speakers and does not include any English. ...Show more