$16.00
NZD
Category: NZ Picture Books
Maori-language champion Stacey Morrison has translated Little Kiwi's bestselling lift-the-flap pukapuka! Kua tae ki te wa e moe ai a Kiwi Pakupaku, engari kei hea ia? Whaia tana Kokara, ka kimi haere i a ia i te ngahere o Aotearoa. A favourite lift-the-flap adventure in the eternally popular Little Ki wi series of storybooks, now available in te reo Maori. Kua tuhi pakiwaituhi a Bob Darroch mo te nuinga o tona oranga. Kua whakamahia ana mahi toi mo nga taputapu takaro, nga tapaepae, nga manatunga, kari whakaahua, niupepa me nga moheni, puta noa i te ao. No te tau 1999 i timata ai tana tuhi pukapuka ma nga tamariki. No te tau 2001 ka puta mai te tuatahi o ana pukapuka Kiwi Pakupaku, a, neke atu i te tekau pukapuka kua whai mai. I te tau 2015 ka whakawhiwhia a Bob ki te Storylines Gaelyn Gordon Award for a Much-loved book, mo Little Kiwi is Scared of the Dark. Kei Temuka, Arowhenua a Bob raua ko tana hoa wahine a Ruth e noho ana. Na Stacey Morrison i whakamaori, he pai nga pukapuka Kiwi Pakupaku ki ana tamariki tokotoru. ...Show more
$20.00
NZD
Category: Te Reo Maori Language | Series: Peppa Pig
For the first time ever, Peppa is available in Maori in a bi-lingual book designed to help parents and children learn together. Lift-the-flaps and spot the objects on every page with Peppa and her family and friends. This book is a feast for the eyes with clear images and the words in both English and Maori. There are over 100 words and names to learn including topics such as; the home, the shops, the playground... and many more! ...Show more
$15.00
NZD
Category: Lift-the-Flaps
'I wrote to the zoo to send me a pet . . .'Rod Campbell's classic lift-the-flap book Dear Zoo has been a firm favourite with toddlers and parents alike ever since it was first published in 1982.Young children will love lifting the flaps to discover the animals the zoo has sent - a monkey, a lion and eve n an elephant! But will they ever manage to send the perfect pet?With bright, bold artwork, a catchy refrain and a whole host of favourite animals, no child's bookcase is complete without a well-worn copy of Dear Zoo. ...Show more
$21.00
NZD
Category: Lift-the-Flaps | Reading Level: Children's - Kindergarten, Age 5-6
The Very Hungry Caterpillar has sold over 41 million copies worldwide in over 62 languages. In this new lift-flap book, children are asked where the Hungry Caterpillar might be hiding. Is he hiding in the grass? No, that's a chirpy cricket! Is he nibbling the strawberry? No, that's an ant! The lift-flap on every spread lets little readers join in the fun as they search in this fun, interactive take on the beloved children's classic. ...Show more
$25.00
NZD
Category: Christmas Books
A young meerkat travels the world looking for Christmas in this festive card-packed picture book, perfect for fans of The Jolly Christmas Postman and the modern classic, Meerkat Mail. Sunny isn't quite sure if Christmas in the desert with his meerkat family is the right sort of Christmas - there's no s now, no fir trees and no figgy pudding! So he heads off on a journey round the world looking for the picture perfect Christmas . . . before realizing he might have left it at home after all. From the twice winner of the CILIP Kate Greenaway Medal and the creator of Tidy, Cyril and Pat and Again!, Meerkat Christmas is a witty and heartwarming celebration of festive fun and family love that shows Christmas can be whatever you want it to be. ...Show more
$27.00
NZD
Category: Atlases | Series: Lonely Planet Kids
This interactive atlas treats young readers to a hands-on journey around the world. Each page turn brings the continent to life with flaps to lift, detailed illustrations and facts about, people, animals, and fun places to visit.
$23.00
NZD
Category: Lift-the-Flaps | Series: Lift the Flap First Questions and Answers
Lots of questions for inquisitive young minds. The colourful illustrations, large and simple text and chunky flaps reveal the answers. The little curious one's questions about the facts of life are finally answered in a way that is both sensible and approachable for them. It tells children enough facts to satisfy their curiosity without getting into the specific details which will be learnt at an older age. The focus is on babies throughout the animal kingdom, as well as human babies and as with all the Lift-the-flap First Questions and Answers, questions are inspired by the sort of typical children's questions. Other titles in this series are Lift-the-flap First Questions and Answers How do flowers grow? and Lift-the-flap First Questions and Answers What makes it rain? ...Show more
$18.00
NZD
Category: NZ Board & Cloth Books
Greywacke Jones was hunting a bee. But where was Hairy Maclary? Hairy Maclary is playing hide and seek. Can you find him? In this lift-the-flap board book the loveable and mischievous Hairy Maclary is hiding from the neighbourhood cats. But then he comes nose to nose with Scarface Claw, the toughest tom in town. This interactive board book is perfect for young Hairy Maclary fans. With easy to lift flaps and bouncy rhythm, it will keep young hands occupied and young minds engaged. ...Show more
$23.00
NZD
Category: Lift-the-Flaps | Series: Usborne See Inside | Reading Level: Children's - Kindergarten, Age 5-6
A fabulous flap book with over 50 flaps to lift, offering a glimpse into the prehistoric world of the dinosaurs. Stunning illustrations show how dinosaurs lived, hunted and how they died out. Flaps reveal extra facts, information and surprises.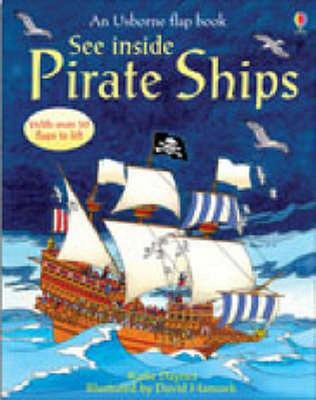 $23.00
NZD
Category: Lift-the-Flaps | Series: Usborne See Inside
Venture onto the high seas in this illustrated book that explores the history of pirates from the days of the ancient Greeks through to the bloodthirsty buccaneers of the 18th century. Every spread contains bright and detailed original colour illustrations that reveal all there is to know about the worl d of pirates, including an exploration of an authentic pirate galleon, a visit to a notorious pirate port and a pirate ship wrecked at the bottom of the ocean, waiting to reveal its hidden treasure...It contains over fifty flaps, which children can lift to delve further into the world of pirates, parrots, pieces of eight and barrels of rum. In addition to being hugely entertaining, this book is also immensely informative and is packed with accurate historical information. ...Show more
$18.00
NZD
Category: Lift-the-Flaps | Series: First Facts and Flaps
First Facts and Flaps: Mighty Machines is jam-packed with fun information, incorporating STEM (Science, Technology, Engineering and Maths) topics. With over thirty flaps, a turn-and-learn wheel and a foldout ending, children will love learning in a hands-on, playful way. Find out about all kinds of mach ines from seesaws and ramps to machines that can deliver your pizza or explore outer space!Pairing bold, colourful scenes from illustrator Lon Lee with rhyming text and a page of informative fun facts, this is the perfect novelty book for children just starting to find out more about the world around them. Discover more of the First Facts and Flaps series with Giant Dinosaurs, Amazing Animals, Brilliant Body, Super Space and Planet Earth. ...Show more
$23.00
NZD
Category: Lift-the-Flaps | Series: Usborne See Inside | Reading Level: Children's - Grade 3-4, Age 8-9
An eye-opening look at the beliefs, history and customs of the major world religions. Discover the three great gods of Hinduism, the root of Judaism, Christianity and Islam, which religions teach that there is no God, and much more. Visually stunning, this highly informative lift-the-flap book is a fant astic source of information for children. ...Show more