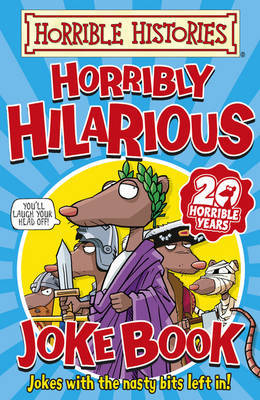 $8.00
NZD
Category: Joke Books, Magic Tricks & Pranks | Series: Horrible Histories | Reading Level: From 8
Horribly Hilarious Joke Book is full of hundreds of horribly hilarious historical jokes and illustrations in one laugh-out-loud book. A must-have book for any Horrible Histories fan, you'll literally laugh your head off at this comical collection of nasty bits.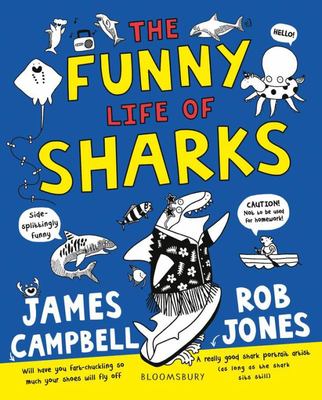 $17.00
NZD
Category: Sealife
Ever wondered why sharks have such a bad reputation? Are they dangerous, human-munching monsters? Or have we got it all wrong? In fact, only SIX people get attacked by sharks every year across the WHOLE WORLD. And how many sharks are eaten by humans every year? ONE HUNDRED MILLION! So maybe sharks are more afraid of us Take a deep dive into the ridiculously funny life of sharks (and some things that have nothing to do with sharks but are still splendidly funny) according to James Campbell, comedian extraordinaire. This face-achingly funny book will also teach you about great white sharks, tiger sharks and hammerhead sharks, just how incredibly old sharks are, and why sharks are SO important for the environment and how to look after them. So, whether you're seriously afraid of sharks or love them so much you want to invite a shark to your next birthday party, this HILARIOUS book is for you. Prepare to roll around the floor laughing with the snot-inducingly brilliant The Funny Life of Sharks, with face-achingly funny illustrations from Rob Jones. ...Show more
$20.00
NZD
Category: Joke Books, Magic Tricks & Pranks
What happened when the pencils played the crayons? It was a draw   Why can't cats sing in key? They always eat the tuner   Why did the dog breathe into the washing machine? It was trying to clean its pants   What do you call a man with a cat down his trousers? Claude   Giggle yourself silly with over 500 original jokes by Tom E. Moffatt - Author of Children's Laughter. These brand-spanking-new jokes are a great way to freshen up your joke repertoire and change that broken record. Brimming with squeaky-clean family fun, amusing introductions from the author and hilarious illustrations throughout.... I'm Joking makes the perfect gift for children aged 8 and up. ...Show more
$15.00
NZD
Category: Joke Books, Magic Tricks & Pranks | Series: Treehouse
Q: How do monkeys make toast? A: They put it under a gorilla. Q: Why did the bus crash? A: Because the driver was a loaf of bread. Jokes galore from the Treehouse duo - from Bears to Worms with Knock Knocks; Brain Teasers; and Skeletons, Ghosts and Monsters in between. A bumper book of hilarity and c raziness for all Treehouse fans, and the perfect Xmas stocking filler. ...Show more
$10.00
NZD
Category: Joke Books, Magic Tricks & Pranks | Series: Jokiest Joking Joke
Knock-Knock.Who's there?Aida.Aida who?Aida lot of sweets, and now I have a tummy ache. The successful Jokiest Joking Joke Book series just got shrunk Find the cleverest, most hysterical, most laugh-out-loud knock-knock jokes in The Mini Jokiest Knock-Knock Book All of the best jokes and goofy illustrat ions from the full-size book are packed into a fun, pocket-sized edition. Featuring hundreds of witty knock-knock jokes for kids, along with clever black-and-white illustrations, it's perfect for hours of fun and games. Mini in size, but giant in fun ...Show more
$15.00
NZD
Category: Joke Books, Magic Tricks & Pranks
What lights up a stadium? A match! Which athletes are the warmest? Long jumpers! How do footballers stay cool? They play close to the fans!Kids will fall over laughing at these sporty jokes, perfect for celebrating the Olympics!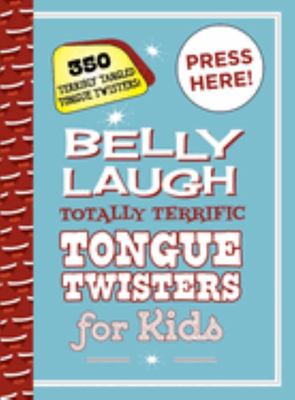 $19.00
NZD
Category: Joke Books, Magic Tricks & Pranks | Series: Belly Laughs
One-one was a racehorse. Two-two was one too. One-one won one race. Two-two won one too.   How much wood would a groundhog chuck if a groundhog could chuck wood?   The instinct of an extinct insect stinks   Belly Laugh Totally Terrific Tongue Twisters for Kids is full of hilarious tongue-twisting fun From snappy one-liners to hilarious stories and jokes, this collection is complemented by sidesplitting line drawings and an uproarious tongue-tied babbling sound-effect button. Perfect for rainy spring days, long car rides to visit relatives, and get-togethers with friends, this book is sure to bring silly laughter and comical wordplay fun into your home. ...Show more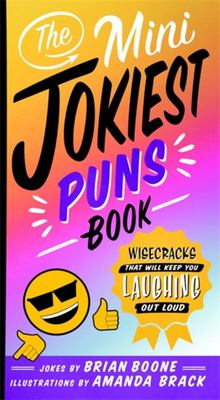 $10.00
NZD
Category: Joke Books, Magic Tricks & Pranks | Series: Jokiest Joking Joke
What dinosaur knows the most words?The thesaurus. The amazing Jokiest Joking Joke Book series just went miniature A punderdome of fun awaits in this pocket-sized edition of a very funny, very punny book of laughter. Featuring hundreds of hilarious jokes for kids, along with clever black-and-white illus trations, it's a gut-busting way to a funnier day at home or on the go. The Mini Jokiest Puns Book is mini in size, but giant in fun ...Show more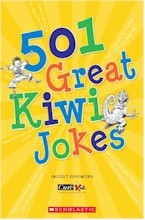 $11.00
NZD
Category: Joke Books, Magic Tricks & Pranks
Laughter is the best medicine, they say, so what better way to support the Cure Kids foundation than with a joke book? Why did the kiwi sit on the clock? So he would be on time! With 500 more hilarious jokes inside, this is a book that will keep Kiwi kids and adults laughing for hours. And what's more, it's homegrown! This joke book is a way to support Cure Kids, the charity that gives children who live with an illness the opportunity to step back and just enjoy life, and funds research into life-threatening childhood illnesses. This joke book embraces Cure Kids' aim to have fun raising funds. Scholastic New Zealand is proud to donate all royalties from sales to this worthy cause. ...Show more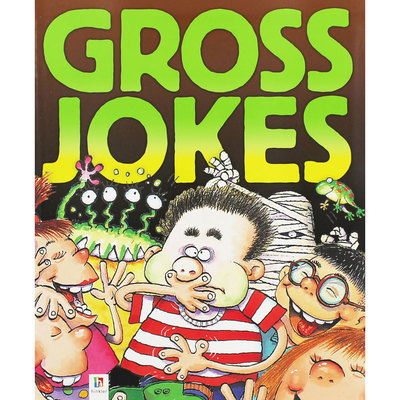 $20.00
NZD
Category: Joke Books, Magic Tricks & Pranks
The all-time disgusting book of jokes is here. We've gathered hundreds of them. Some of the jokes will raise a smile, some will make you giggle, and some may even make you groan. There are jokes in here that will have you in stitches and jokes that will have you in tears. Also available in these new an d improved Cool books featuring Greg Singleton's cheeky illustrations - Jokes, Magic Tricks, Science Experiments, Riddles & Tongue Twisters, Freaky Facts. ...Show more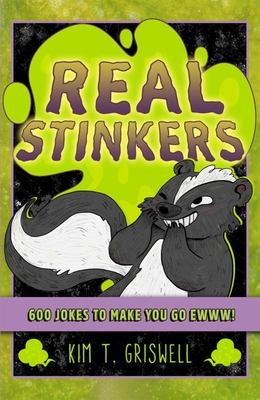 $17.00
NZD
Category: Joke Books, Magic Tricks & Pranks
What is a vampire's favorite kind of road?A main artery. Packed with spew-inducing jokes, riddles, knock-knocks, and puns, Real Stinkers gives kids a yucky good time. Gross out friends, family, and even yourself Real Stinkers is a funfest of foul laughs, gasps, and groans . . . all topped with a load of disgusting facts, vile vocabulary, and demented definitions.Which Spanish city has the worst food?Barf-a-lona. From burps to farts, bugs to slugs, grime to slime, and goo to poo, this book has it all. ...Show more
$14.00
NZD
Category: Joke Books, Magic Tricks & Pranks
Get ready to laugh your football socks off with this side-splitting joke book from the creators of the bestselling Football School series. What's a striker's favourite magic routine? A hat trick! Why was the peacock sent off? It was a professional fowl What's a chip-lover's top footie show? Catch of the Day, with Gary Vinegar Packed with great gags about silly stars, team titters and naughty nicknames, this is the perfect gift to give any football fan the giggles. ...Show more