Dino Poop Mini Dig Kit (National Geographic)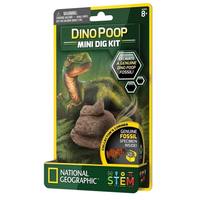 Stock information
: $12

.00

(NZD)

: National Geographic Partners
:
:
:
:
: 851456006210
: 12.0
: National Geographic Partners
:
: toys
851456006210
Description
Bones aren't the only things the dinosaurs left behind! With this Dino Poop Mini Dig Kit from National Geographic, kids can excavate a fossil called coprolite that was actually formed from the remains of prehistoric dinosaur dung!
This hands-on STEM educational toy comes with a digging tool, a brush, and a National Geographic Learning Guide (written by teachers) full of fascinating facts about dinosaur poop!


Age 8 years and up


Package Dimension: Approx 12 x 22 x 6 cms


Material: clay


Includes: mini dig kit, tool, instruction guide


Kids will love digging up these fossilized item!


This kit makes a great homeschool lesson!